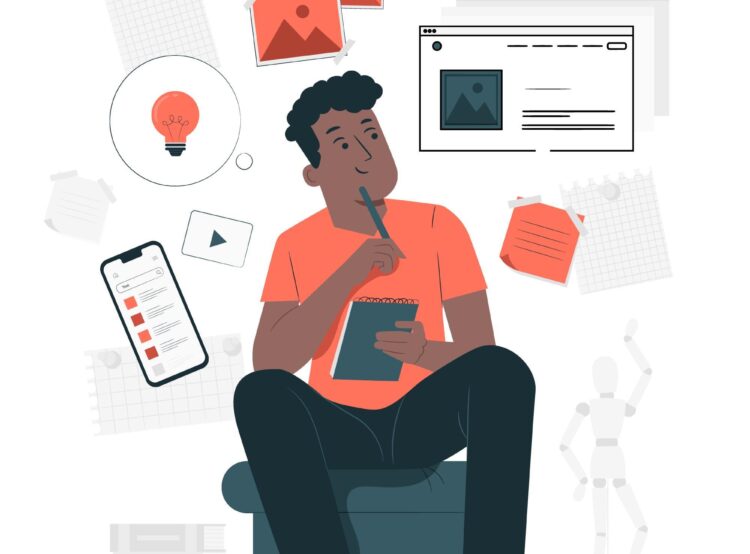 Becoming an UI/UX Designer
Do you want to become a competent UI/UX designer, but you lack the experience?
Do you want to learn UI/UX design from scratch?
Are you a graphic or web designer who wants to transition to UI/UX Design?
This article is for you.
UI/UX Design has become a rave of the moment due to the need to provide a good user experience and increase sales on websites and apps. Consequently, many companies spend a lot of money to hire competent designers to improve their products' UX.
Before we delve deeper into becoming a UI/UX design, let's grasp what a UI/UX designer is and the requirements for becoming an UI/UX designer.
Who is a UI/UX designer?
User experience design, which is also referred to as "UX design," is about improving user satisfaction and designing the user experience.
A UX designer is a person that uses the art and science of designing a web/app with better accessibility and usability from the start and enables users to have a better experience.
There is a slight difference between UI and UX designers. UI design ("User Interface design") involves visual appearances and is a part of UX design. However, the functions of UI designers and UX designers are different. Their significant concerns, colors, and design tools for web/app design are not the same.
For instance, UI designers tilt more towards arranging UI elements and layouts for web visitors to navigate easily. On the other hand, UX designers offer a pleasant experience for the users, including color schemes for making users comfortable, buttons or UI copies for evoking users' emotions, the UI or interaction flow that makes users better.
The similarity between UI and UX are: they both aim to improve customer satisfaction, they focus on the user and his or her interaction with a product/services, and it can be used for any product.
Skills You Need to be a UI/UX Designers
If you want to be a successful UI/UX designer, you need some skills to set you apart. They are:
Solid understanding of buyers' psychology.
Solid understanding of sociology
Ability to understand and address users' problems: You need to know how to understand and solve your customers' issues as a UI/UX designer.
Tactical skills, such as user research, prototyping, and usability testing, and concept iteration.
Communication and collaboration skills.
Knowledge of Basics of website/app design and development, standard UX design tools like Photoshop, Mockplus, Illustrator, Sketch, and website/app testing for better UX.
Demand analysis. UX designers need to know how to carry out user research and analyze user requirements because they design the user experience based on users' real needs.
Interactive Design. Interface design. UI/UX designers need to create interactive prototypes for testing the practicality of a design idea. Hence, you need to be able to design interfaces and interactive prototypes.
Great Team Work Ability
Now, what are the steps you need to take to become a good UI/UX designer?
Discover Your Motivation: Being a UX designer demands some work, commitment, and dedication. Nevertheless, you might give up as a beginner if you don't have a firm motivation. Therefore, you need to look within and answer these questions before going into the skill.
Why do you want to be a UX Designer?
What do you know about UX Design?
What business or field do you want to go into?
How ready are you to learn UX Design?
How much do you want to earn as a UX Designer?
The answers will help to keep you focused and help you to overcome difficulties.
Learn the Principles of UI/UX designers: After you have figured out your reasons for UX design, the next step is to learn the basic UI/UX design principles. Here, you need to know the basic concepts of Design, such as:
Contrast, including the use of comparison to arrange information, create focus, and build hierarchy.
Typography, which involves selecting fonts and creating readable texts online
Consistency
Colour, including color psychology and color vocabulary.
Balance, including symmetry and asymmetry.
To learn these concepts, you need to read books and take relevant courses. Some of the books that will teach you the basics of UX design include:
You can also go for UI/UX courses if you want to learn further. Here are some of them:
Surround Yourself with Great Designs: Learning principles of Design is good, but you need to go further; you also need to learn how to differentiate between good design and lousy design. You also need to identify strengths and weaknesses in designs. To accomplish this, you need to surround yourself with great designs. They will serve as your inspiration. Often, our minds are unable to create ideas independently; you need to feed it with other designs to help create your own, mainly if you are a beginner.
Some of the websites are:
Watch and Copy Others: After surrounding yourself with great designs, go further by repeating those designs. You learn by copying others before you learn to innovate. Practice by repeating great designs. You will gain a grasp of the rudiments through the training. You can do this by picking a website or app and redesigning it.
Get acquainted with the latest Web Design Tools: Several design tools exist; however, you don't need all of them. You can use a few of them and stay up-to-date on the latest trend.
These are some of the tools:
Read articles on UI/UX daily: You need to acquire knowledge daily in order to stay updated in the world of Design. There are tons of sites for you to learn from. They are listed below:
You can also join groups and forums to collaborate with other designers.
Get a Mentor:  One way to increase your speed of learning is to get a design mentor that will help you. He will review your designs and comment on them. They will also offer tips and tricks from their years of experience. They will also shorten your learning curve by making things easier for you.
 Create your Portfolio and Resume: If you want to start working as a designer, this step is essential. Your portfolio serves as your business card; therefore, you need to create one immediately to make your future employee ignore your application.
You don't need to go through the rigors of creating your website as a beginner if you don't have the time or skills. You can create your portfolio on some online platforms by registering and submitting your projects there. Examples of such platforms are:
Conclusion
Learning UI/UX is not a walk in the park, but with these steps, you will become acquainted with UI/UX, create value, solve problems, and earn big.