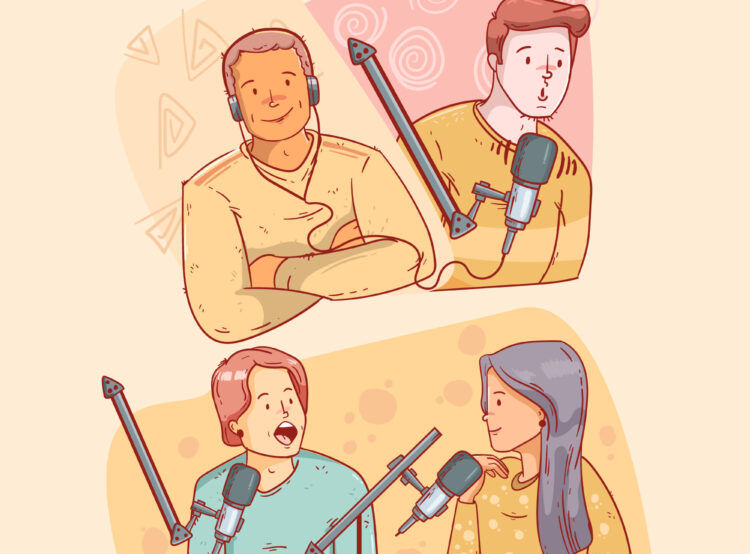 Compared to blogging, podcasting is a less competitive space, yet a rapidly growing one. More people listen to podcasts by the minute, either for motivation, meditation, to learn something new or for entertainment. So if you would like to start your own podcast, NOW is the best time to begin.
Regardless of your podcast's purpose, podcasting is a perfect way to reach and grow your audience. The Best part is, the process is easier than you imagine it to be. Technology has evolved so easy to use and access that you do not need tech-savvy to start your podcast. Also, you do not require prior experience or a large amount of money to start.
Although this isn't difficult, you need to follow steps to launch and start your very podcast. Here, we have gathered a comprehensive list of the steps you need to follow to successfully start your podcast.
How Do You Start Your Own Podcast?
Like you do before you perform any other task, you need to make some plans before starting your podcast. Your podcast's desired concept largely determines the decisions and actions you take at this stage.
At this point, you would be considering the "what," "why," and "how" of your podcast. Once you have this figured out, you can then comfortably move to the next stage of the process.
When brainstorming and making plans, ensure that you have a pen and paper to put down your thoughts and plans.
This is the first and most important decision you need to make concerning your podcast. You need to identify your desired niche and decide the topic or theme you would like.
When making this choice, ensure that you are passionate about that topic and consistently do thorough research on and discuss it. Once your selection is made, make efforts to search for other podcasts that fall under the same theme and listen to them. This would give you a good idea of what you should be doing and how you can do better to appeal to your potential audience.
Indicate Your Podcast's Goals
This represents the "why" of your podcast. You need to identify and document the aim and purpose of your podcast. This is dependent mainly on the theme – entertainment, history, business, passion, etc.
Choosing your podcast name is essential. It gives a good but brief description of what your podcast is all about. Be creative about this and try to come with a catchy but descriptive name that makes it easy to find you.
If you intend to expand your future topics, you can also choose an encompassing name for all topics.
Podcast Title – Use Relevant Keywords
Your podcast title is a brief description of the contents of your podcast. A well-written title would help your audience, and the potential audience finds you faster. Make sure your title is particular and also contains relevant keywords. As much as you can, avoid keyword stuffing.
Choose a Co-Host (Optional

)
Starting a podcast with a co-host isn't compulsory. However, if you think it would be a great idea, then you can choose a business partner, friend, or someone who shares similar views as yours. This can make your podcast more engaging and exciting to listen to.
Decide Your Show's Format
Your show's format compromises its length, style, and how often you want the episode to run. Your choice of format is dependent on the niche and theme of your show, its purpose, and your preference. However, your structure must be in line with the aim of your podcast. It could be an interview podcast, scripted or scripted non-fiction, news recap, or an educational podcast.
Several individuals and certain "experts" believe a fixed optimal time or period for a great podcast episode. But this is not true. It would be best to make each podcast episode as long as you think it should be, provided it works fine with you. Your primary concern should be feeding your old and new audience with compelling podcasts.
You should also create a publishing schedule for your podcast episodes and make sure that your schedule is regular and consistent. Inconsistency can cause your audience to lose interest and again lose trust in you.
Time To Put In Some Work
After making plans, it is only normal that you start making the necessary preparations for your podcast launch. It would be best if you got certain things in place before starting.
Create Your Podcast Artwork
Your podcast artwork or cover art is among the first things people see when they browse through podcast directories or click on your podcast or podcast link. Your cover art plays a vital role in garnering a new audience and influencing how your audience will perceive your podcasts. It creates the first impression of your podcast before any other thing. Ensure that you create or have someone create attractive and highly-appealing cover art for your podcast. You can hire a graphic designer on platforms such as Fiverr or 99designs, among others. Nevertheless, you can also create cover art for your podcast using apps such as Canva.
Get Professional Intro and Outro Music
This is optional but recommended. Podcast theme songs are a perfect way to stand out from other podcasts, and they help ease up your audience before the episode gets started. You can get awesome podcast theme intro and outro music from several platforms. A few are free, but most of them are paid for at affordable prices. To get some free professional podcast theme song, you can visit Royalty-free music. For great paid theme songs, visit premium beat, Audio Jungle, or Audio Blocks.
Purchase Your Podcast Software and Equipment and Test Them
The quality of your podcasts influences the loyalty of your audience. Good content with poor quality is a disastrous combo and should be avoided at all costs. Although this is not strictly recommended for beginners or start-ups, it would be beneficial to purchase them if you can. However, if you are running on a tight budget, you can record your podcast with an iPhone or Android and your headphones.
The equipment you need includes the microphone, a foam ball, boom arm, and a shock mount. The essential piece of equipment is the microphone. You can get great quality microphones from online stores at an affordable price. It is advisable to purchase the Audio-Technica ATR2100x-USB or the Samsung Q2U USB/XLR microphone, among many others. These choices are cost-effective, high-quality, and durable. You can also purchase podcast starters kit or equipment from e-commerce stores such as Amazon.
Podcast software is important for making edits and necessary adjustments to your recordings. This will help you achieve high-quality sound on your podcast. It is possible to have your editing done with your Android or iPhone, but this wouldn't be as effective as editing software. There are several editing software that you can use for your recordings. A few of them are free, and the majority paid. However, the paid software is very cost-effective. Some excellent editing software includes Audacity, Alitu, Hindenburg, GarageBand, SquadCast, Zoom, and Skype. You can have these downloaded on your computer to start editing your recordings. Note that some of this software is specific for MAC & IOS, such as GarageBand.
Time to Get Started
After making your plans and putting everything necessary in place, it is finally time to begin your podcasting journey.
Now, this is where the real work begins, and you may get frustrated along the way. However, with some patience, determination, and consistency, you can quickly get past this stage.
Before recording,
Ensure that you have prepared a comprehensive podcast outline, as this would help keep you on track throughout the session.

Next, you need to pick a suitable place to record your new episode. You don't want some noise or any interruptions while recording, as this would make the editing process more tedious.

Prepare your podcast recording software and equipment for use. Put the necessary connections in place and start recording. It is normal to be nervous or make mistakes. Even if you make any mistakes, keep going; you can edit them out once you are done. If you don't feel confident about it, you can record as many times as you want and select the best.

Begin the editing process. This is the most tedious part of this recording, publishing a podcast, and going nuts. Try to exercise some patience and not get overwhelmed or frustrated. To learn how to use the editing software, you can follow the given directions, watch tutorial videos, or do your research.

After successfully editing your recording, save your edited recording and have it uploaded or submitted for uploading. Platforms you can upload your recording to include Buzzsprout, iTunes, etc., and have it submitted to directories like Apple Podcasts, Spotify, IHeartRadio, etc.

Spread the word by sharing your podcast to your network or your social media platforms. Also, encourage your friends to help you share with their networks too.
Conclusion 
As opposed to what most people assume that to start your own podcast is super beneficial and straightforward. Given the increasing popularity of podcasting, it would be great to start one now if you wish to. To do that, you can carefully follow this process and have your podcast up and running in no time.
Note that the editing process can be overwhelming and sometimes turn out very badly. If you get stuck at that stage, you can take breaks, speak to old podcasters, or do your research on the process. Every podcaster has gone through this and has come out better. If you can maneuver through this process the first time, you are sure to keep getting better until you become a pro.