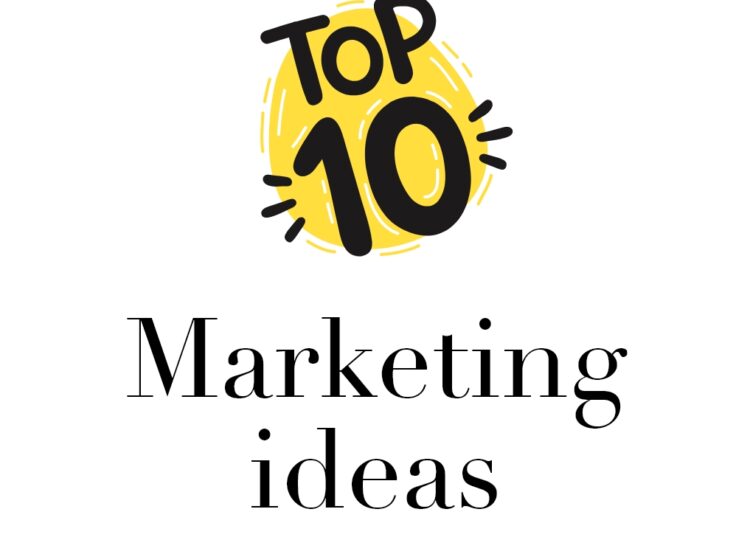 When a business is ready for launch or just began, marketing forms the core of its rise to success.
The top brands in every niche you can think of leveraged on marketing to arrive at the apex of their businesses.
For start-ups, marketing is paramount. You need to get the word out there and on the streets that you're a brand and a serious one at that.
Now doing this isn't as easy as it sounds. It's one of the imposing challenges many start-ups face. The strategy might be clear, but the budget could be threatening.
A challenge is a challenge, whether it's in the area of finance or brainwork. But the good thing is; you're here and you're going to learn of unique marketing ideas for your start-up.
And guess what?
You won't have to break the bank to set things in motion. If you're ready, let's get down to the good stuff already. Here we listed down top 10 Marketing Ideas for Start-ups
Be Unique about your Business
If you haven't thought about going unique to the kind of business you do, it's not too late.
You can create a blueprint on how to disrupt your niche with the exclusive nature of your business.
People are tired of regular products and services. They want something different and uncommon.
The success of your marketing plan is anchored on how unique your business is. If you are still trying to get a hang of it, let me simplify it for you with one common example.
If everyone is selling toothpaste, add a toothbrush to your pack, and that's a difference no matter how little it looks.
Now you have something unique and a reason why people will pay attention to any marketing stunt you pull out there.
Start a Referral Program
A referral program is one unique way to spread the word about your brand.
Word of mouth is still viable around marketing circles regardless of how the internet has influenced our lives and plans.
With your unique business in play, you already have an edge but you can do better.
Encourage first time buyers or customers to spread the word about your brand. But that's not all. You have to create an incentive to encourage them to continue preaching about your brand.
You could promise each customer that brings another loyal customer, a free branded tee-shirt, or an umbrella. Explore your options on this, and find something within your budget for this referral program.
There are referral programs online you can sign up for. While they take care of the job, you concentrate on your products and incentives.
Freebies/Giveaways
Freebies go way back in time and are still viable in today's competitive business world.
I'm yet to see anyone who hates freebies, even the rich and powerful love it. There's this feeling of love and attachment a giveaway creates in the heart of each customer.
Imagine if you'd attach a freebie like a tee shirt or a pen to each product packaged for sale. Most customers will keep coming just to get the freebies even though you don't plan on sustaining the marketing trick.
Whenever you stop, you would have made a substantial income out of the strategy, and most importantly, your branded tee shirts are everywhere around the neighborhood.
As a start-up, your brand identity is essential for publicity. If you want to go viral, create a unique brand identity, and attach it to your products.
When I sport a particular tee from a certain brand and walk down the street to see an old-time friend, there's a feeling of familiarity I get when I see the same brand crested on the pen he's using.
In piecemeal, your brand is going viral and you aren't busting your nerves for it.
Stickers are Still Sticking
If your brand identity is sharp and unique, you need to engrave this image in the hearts of everyone.
You can always recognize the Facebook logo anywhere you see it even without Facebook written as a subscript.
Now create stickers, they're awfully cheap and distribute to every buyer. They can place them on their cars, books, pens, doorposts, mugs, and any item with space for it.
You can as well do it yourself. Create the stickers and pack a stack of them anywhere you go. Place them in public places and in places where your target audience is likely going to converge.
This strategy is potent for visibility and general identification of your brand by the people, and more importantly, your target audience.
Constant visualization of your brand logo will make it stick to their brains. You're just starting, but you're popular down the lane, and it creates the feeling of association.
People want to identify with something popular, that's what you give them without draining your purse.
An Exclusive Beta
Give your customers the elite feeling by making them have what they think is exclusive.
That's how humans are wired; to desire something everyone can't have. You can give them this feeling and command traffic to your start-up.
But how?
Simply create an exclusive beta version of your product and bait people to hurry up and get it first before others.
You might need to put on your creativity hat on this and get to work. However you choose to do it, get your audience excited about the prospects of having something exclusive. That's the magic!
Target a Major Publication
This might seem like a long shot, but with hard work and consistency, it is possible.
You know the major publications around, the goal is to start pitching them to get featured on one of their pages.
This can start from developing a healthy rapport with the editors or just paying for it.
Whichever route you choose, the instant your start-up is published in a famous publication, you are in for some good business.
That's how most big brands today began. These publications are bought by a sizeable amount of the population around you.
One way or the other, it would get to at least 50% of your target audience and at least 30% of them are likely going to take action.
Partner with a Larger Brand
Understandably, you're just starting, and gaining a foothold in the market can be challenging.
However, if you can find a bigger brand within the same niche and partner with, you can ride on the brand's back like a horse to success.
Your product can be used as a giveaway for the bigger brand's promo and there are numerous ways this partnership can work.
The first step is to identify with a popular brand and strike a partnership deal that will see your start-up grow into a mega-brand.
Promote a Social Cause With Your Brand
When your brand promotes a social or noble cause, society associates it with positivity.
Consequently, you have to scout for programs, talent hunts, noble causes, and activities that court massive attention to support.
Now you don't have to empty your purse for this. You can support in the little way you can.
It gets even better if your brand has something that can facilitate the cause. For instance, your brand is about portable drinking water, you can dole out a carton for the judges in a talent hunt competition.
This can earn you recognition as one of the sponsors. That's an instance, there are a handful of ways you can go about it.
Google my Business
Of course, you have to go online and here's one of the numerous platforms.
Google my Business came to save the day for local businesses struggling with marketing both financially and strategically.
Google my Business profile entitles you some tangible marketing benefits.
For starters, this free listing on Google allows your business to be shown on Google maps.
And then it goes further to feature your business on the local section of Google Search, and the side knowledge of Google search panel all for free.
All it takes is to carefully fill out your business profile on the form presented to you by Google and optimize it for SEO.
Attend Business Events
If you are social enough for the great outdoors, you can leverage these events to publicize your brand.
By attending events like trade shows, product launches, and business meetups in your field, you get a chance to expand your network.
By expanding your network, your start-up is also expanding. These events can give you a platform to announce your brand to people who can partner with you for better exposure.
The connections you'll get from these outdoor events can be pivotal to your start-up in terms of more funding, publicity, and general business success.
So if you're the outgoing type, make the best out of it for your business to rise.
Conclusion
If your business just began, it's crystal clear you are in dire need of publicity.
The right marketing ideas for start-ups can achieve that seamlessly and spread the word out about your brand getting off the ground.
It takes creative efforts and commitment to see a marketing campaign come out successfully and make returns. It's important you note this while you engage in any of the ideas.