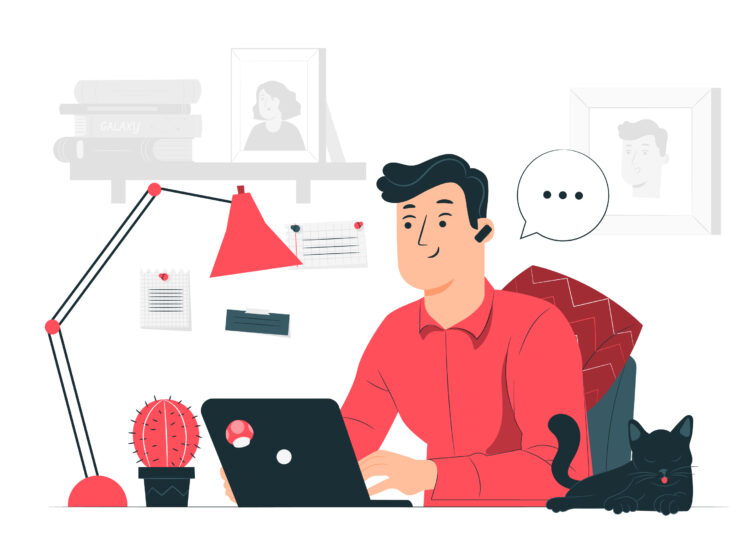 Working from home may sound easy and fun, but it isn't always true. More often than not we tend to find it quite hard to concentrate on and grow in their careers while working remotely. This was and is still the case due to the pandemic. With several things causing a divide in your focus and attention, such as your family, pets, and even chores, professional growth and development may seem stunted and near impossible.
However, this doesn't have to be the case. It is possible to focus on your career and grow in your professional space while working from home. Whether you are working with your team members and manager or employees physically or not, you can effectively communicate with them, share your ideas, learn, and grow professionally.
In this article, we have put together a comprehensive guide on how you can work remotely, and grow professionally, make an impact in your company, access and leverage new career opportunities.
Know Your Capabilities
To grow, you must first have a basic knowledge of what you can and what stage you are present. This would help you measure progress and serve as a basis for reference. You have to identify your abilities, skills, level of knowledge, and your position at your workplace. With this, you can define where you wish to be, the skills and knowledge you need to acquire, and the level you plan to have attained within a set timeframe.
Prioritize Effective Time Management
The most successful business or company owners and entrepreneurs have excellent time management skills. If you must grow professionally, you must be ready to do away with procrastination, laziness, and slothfulness. Handling work and family simultaneously might be difficult, but it can be possible if you can manage your time correctly. Make it a duty to plan your day and your week. Creating plans and assigning timeframes for each goal is the perfect way to start.
If you can successfully follow through with your plans and effectively manage your time, you can create a comfortable work-life balance. It will also help you to reduce distractions and meet up with project deadlines. With adequate time management and some discipline, you can create time to invest in your career growth, deliver quality tasks and projects in due time, and grow professionally.
Invest Time and Resources into Learning
Learning is a life-long process, and it isn't limited to school learning. To grow in any chosen field, you must learn. Working from home has its perks and a significant advantage is not having to commute to work daily. This implies that you not only save time but some money too.
A survey conducted recently showed that most employees who now work remotely due to the pandemic discovered that they had extra time worth 17 days of free time during regular working days.
A great way to utilize this extra time is by registering for online courses, listening to podcasts, and attending webinars or virtual conferences relevant to your career development. You can also read personal and career development books.
Shared knowledge is easier to remember and understand. Sharing your newly acquired knowledge with your manager and team members is a great way to enhance understanding and show that you are actively working towards your professional growth. This can open you up to more career opportunities in your company.
Provide Extra Value
Going the extra mile is a show of excellence and diligence. Making efforts to add value to your team members and other departments is key. You can do this through your opinions, skills, and expertise.
Doing some extra work or research when given team projects or tasks is an excellent way to show your team leader your level of dedication and your desire to do more for your organization or company. This is especially beneficial when you are positioning yourself for a leadership role in your organization.
Making valuable contributions and delivering projects within the specified time should be prioritized. Giving work your best while working remotely can significantly impact your career growth and role as a leader.
Build Your Team Spirit
Whether physical or virtual, teamwork is essential for the growth of your company and your career growth. When you make conscious efforts to work closely with team members, you can gain new skills, initiatives, knowledge, and contributions to specific projects. New knowledge, skill, and perspectives gained from team members or co-workers can positively impact your professional growth while in a home-based environment.
You can also build team spirit utilizing any given opportunity to recognize and applaud team members for their hard work. This can improve your team's morale, project progress, and enhance the relationship between you and your co-workers.
Building your team spirit boosts trust between you and your team members. It also shows that you value them, their opinions, and contributions to team projects and the company as a whole. This also opens you up to new career opportunities within your company.
Improve Your Communication Skills, Grow Your Network
Since there are no one-on-one physical chit-chats or coffee breaks, how do you relate with others at your workplace? You have to come up with innovative ideas that help you to interact with others. Considering that every interaction will be carried out remotely, you have to work on your communication skills. It would be best if you found ways to improve your digital communication skills to maintain and grow your professional network.
With closer colleagues, you can do this via calls or text messages. However, with your boss or other cordial co-workers, you may need to send emails and messages. Taking out time to consistently write and send emails or messages to your team members and manager is an excellent way to improve communication and grow your network. This will also help to improve and hasten the progress and quality of team projects. Ensure that your messages or emails do not give rise to or fuel misunderstandings, and ensure that you keep them clear, short, and professional.
Consistency at this can increase your chances of communicating better even though you're working remotely.
Always Ask For Feedbacks
You don't have to wait for a structured company review from your boss and other teams. Most of the time, these reviews only touch on our performances' surface issues and do not go as in-depth as we may expect or want. Seek reviews and feedback on your overall performance from co-workers or team members. Getting honest feedback can give you an idea of the areas you need to improve on and those you are doing perfectly well. This, in turn, helps you to make necessary adjustments to get better. This also shows your manager or team leader that you are eager to grow and communicate your diligence level.
Although this is important, it will not yield a useful result if you are vague in your requests. When requesting feedback from your manager or team-members, ensure that you are very specific. You could ask for feedback on your professional growth and development, overall work performance, and projects you are working on. Reviews can also cover projects you have worked on independently. You can speak to your manager to get a deeper understanding of structured company reviews.
Getting feedback and applying the necessary corrections helps you improve your career, especially when working from a home-based environment.
How to Finance a Home Office?
For those who have taken additional steps to improve our ability to grow in the home-based environment and finally have started working from home, it will be a number one priority to make sure your workspace is comfortable and welcoming. After all in the very same chair, you will end up spending a majority of your time for several years if not decades.
For those who are just starting might be difficult financially to afford each and every item on the very first day. It only looks simple, and altogether some ads up.  You definitely need :
Comfortable chair
Big and comfortable desk
Electronics
Curtain
Light
Writing equipment
Electronics alone can cost a fortune, luckily you can read about ways to finance your home-based office on Bankrate.
Seize Every Relevant Opportunity
Due to recent events, most companies have been affected and search for ways to achieve more with fewer resources. Although it seems to limit the possibilities for new opportunities, it gives room for employees who are willing to work. Search for areas where you think you can make some impact and apply yourself there. This way, you can create opportunities for yourself, increase your experience and skills while adding some great value to your company.
It is important that you strategically place yourself in positions or take up specific roles in your team or company to present yourself as a team player and a potential leader.
You can also turn your daily opportunities into great ones by taking a new strategic approach to your projects or work you are assigned. Doing this will help you work smarter, better and open you to your company's new tasks.
The ability to seize new and relevant opportunities is an excellent way to grow yourself professionally, even in a home-based environment.
Conclusion
As a typical office worker, you may have found it difficult to adjust to working from home. The children are continually screaming, you have chores to do, and there's so much office work you have to focus on. With all of these happening simultaneously, you may find it hard to believe you can even work effectively to grow in your career. However, this is entirely possible, and you can achieve it.
Creating a workspace for yourself, making plans, and following this guide to the latter is a perfect way to start. If you can practice some discipline and consistency, you are sure to develop personally and career-wise. You can also create opportunities for yourself and position yourself for promotion within and outside your company.
Working from home doesn't have to impact your professional growth and development negatively. Adopt the growth mindset, apply it to your life and career, and you will experience the visible and commendable professional growth that you have always wanted for your job.