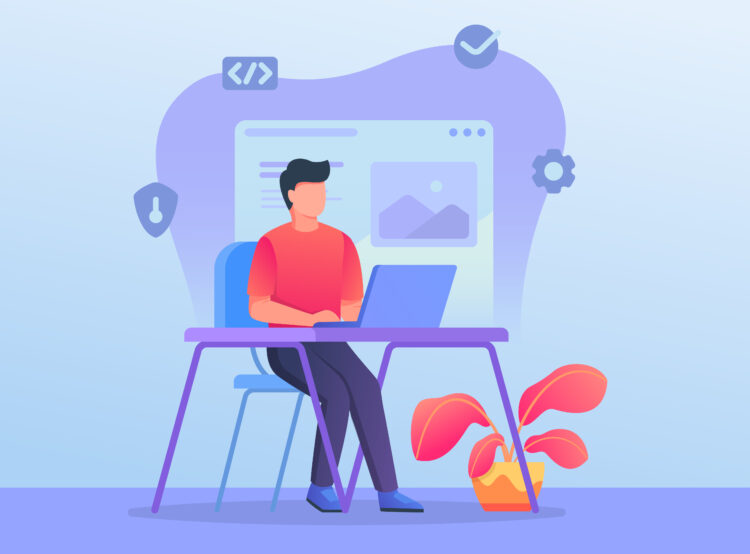 The world is no doubt a global village, with virtually every human activity being done online. Today, we have the internet that has been a primary source of information to everyone worldwide regardless of location. The internet has also created several safe spaces for interactions and the creation of different businesses.
With the internet and the many tools that it offers, it is easy for many businesses to spring up without needing a physical store. The presence of online business, activities, and interactions is stronger now than it used to be many years ago. At the center of all these is the need for web development. If you must create an online presence for anything you are doing in this technologically driven age, you need to have a website. To design a functional website, you need the services of a web developer.
Web design and development is a very profitable online industry that the decision to become a web developer is one of the best you might make. However, it is not just enough to become a web developer in this internet-centered age; you should consider freelancing.
You can work from your home with freelancing at your pace and for as many clients as you want. Before we examine some of the important steps to follow to become a freelance developer, let us look at some of the reasons you should consider being a freelance developer.
Why You Should Consider Being a Freelancer Developer
There are several reasons why you should consider being a freelancer developer. The most important is that the times that we live in have seen the rise in remote work. More jobs and businesses are going online and need the services of freelancers to handle various job descriptions. Some reasons why considering being a freelance developer may be a good idea include:
You can work for multiple clients
One of the significant benefits of being a freelancer developer is that you are not constrained to work for just one client like you may have if you are working physically. Freelancing helps you work on an hourly basis, and where it happens that you have a lot of time to spare, you can work for more than one client at a time.
You can work from the comfort of your home from any location
As we will come to see later in the article, being a freelancer developer on major freelancing platforms allows you to work from the comfort of your home. All you need to do is register with these freelancing platforms, send out proposals to clients, and when your proposals attract a client, you can get the job done from home.
The most interesting thing about this is that you can work for any client from any country of the world without leaving your country of residence. So, you can be in Canada and handle the web development of a business or client who resides in the United States.
There's a lot of money to make from freelancing
If you work as a freelancer developer, you will not only get the opportunity to work for multiple clients from the comfort of your home, and you can make a lot of money doing so.
Many of the jobs you will be working on as a freelancer developer will be hourly. You can earn as much as possible per hour working for several hours a day and several days a week.
Steps To Follow To Become a Freelancer Developer
Having pointed out some of the reasons why being a freelancer developer is a good idea, the most important question is how then you can become a freelancer developer. There are several ways to go about this, and we have presented these ways in steps that will guide you through the process.
Choose a freelancer developer niche you want to specialize in
In your journey to becoming a freelancer developer, the first and most important step is to find your niche. Every other step you are going to take will rest on this one. To be successful as a freelancer developer, you will need to position yourself to meet clients at the very point of their needs.
To do this, you will need to find the web development area you are good in and offer unique services to clients. Finding your niche might require that you do some research to find the different aspects of web development available and, most importantly, profitable.
Create a comprehensive portfolio
After finding the niche you want to specialize in as a freelancer developer, the next step is to create a comprehensive portfolio. Having a portfolio is very important because when clients want to hire you, they always want to be sure you are a good fit for the job. To ascertain this, they look at your portfolio to check your skills and experience in your chosen niche.
To create a comprehensive portfolio, you may need to include courses you have taken and completed. You can also register for courses online that you can include in your portfolio. Also include in it any work experience you've had as a web developer for any company, business, or brand. Most importantly, always ask your clients to leave feedback or review of your services upon completion. These reviews will serve as a significant boost to your profile for prospects looking to hire you.
Stay updated on the availability of opportunities
With regards to web development, several opportunities are available to freelancers. However, to harness these opportunities, you have to stay current with what is happening in the industry. This might require you to check-in with websites that provide job opportunities, register with online freelancing platforms that connect job seekers to job givers on a remote level.
You can have a great portfolio and good skills and not access the right opportunities. You have to take on the responsibility of marketing your services to prospects that need such services. Staying updated with available options is the best way to market your services to a target audience and not just anyone.
Register with freelancing websites
Talking about staying updated and positioning yourself to tap into web developer opportunities, registering with freelancing websites is very important. There are notable platforms that employers go to when in search of a particular service.
By registering with these platforms, you can create a profile and include your portfolio. From time to time, you can search for jobs on these platforms and send proposals to clients stating the services you offer and why you are the best fit for that job. More critical than registering with freelancing websites is registering with the right websites.
Considering that there are several online freelance platforms, you must be familiar with some leading platforms. Freelancing platforms that have differentiated themselves from others and have grown to become the best over the years include:
Upwork
Upwork remains one of the world's leading freelance platforms with over 3 million users. On Upwork, it takes employers a maximum of 3 days to find the right fit for jobs they post on the platform. Upwork is one of the best platforms you can register with as a new or existing freelancer developer.
Things are pretty simple here as all you need is to create a profile that includes your basic information, a clear picture of you, and an overview of the service you offer and why clients should hire you. Upon approval of your profile, you can start sending out proposals until you land your first gig as a developer, and then the second, the third, and before you know it, you're making a lot of money off the platform as a freelancer.
Freelancer
Another top freelancing platform that you can register with as a developer is Freelancer. It is an open marketplace that you will find jobs from different clients across the world.
Like every other freelance platform, you will have to register and create a profile to access the many available jobs. You can either run on the free plan or upgrade to the paid subscription plans for better features that will help you get high-paying gigs faster.
Fiverr
If you are a freelancer developer – new or old who have taken steps to research about freelancing platforms, then you most certainly would have come across Fiverr. It is a large freelancing space where you can find remote jobs from different countries of the world. On Fiverr, clients who need a developer post the job descriptions. Individuals who feel like they are the best fit for the job send out an offer stating their capabilities and why they are a good fit. If the client considers your offer, there is a high chance the client will hire you.
Here, you are being paid per job of which the platform charges a certain amount. If you can understand this freelance platform's workings, you can make a lot of money from it working for several clients across the globe.
Provided you have the requisite skills and are open to continuous learning, becoming a high-earning freelancer developer is something you can work towards. Find a niche that plays to your strength and create a comprehensive profile that highlights your skill. Stay updated on opportunities as they present themselves by registering with trusted freelance platforms like Upwork, Freelancer, and Fiverr.